Business / commercial pricing
Signage : Vans and Commercial
Signage : Vans and Commercial
Small Vans : £200
Basic Signage, 1 colour, text and logo, 4 sides £190.00 (Berlingo, Astravan, etc)
Medium Vans: £280
Basic Signage, 1 colour, text and logo, 4 sides £250.00 (Transit SWB, Vivaro)
Large Vans: £450
Basic Signage, 1 colour, text and/or logo, 4 sides £330.00 (Transit Hightop, Sprinter)
For those looking for a more specific or dramatic impact we offer a bespoke design service, Prices vary but start from £400 and are entirely dependant on how much work is involved and the size of the Van.
---
Sign Boards & Temporary Signs
Sign boards
Small Signs: £60 each
on fluted sign board – 5 year vinyl – up to 60cm wide
Medium Signs: £120 each
on fluted sign board – 5year vinyl – up to 120cm wide
Large Signs: £240 each
on fluted sign board – 5year vinyl – up to 240cm wide
Magnetic Signs: From £55 each
On motorway grade magnetic material, up to 60cm wide
Window Signs (graphics on window) : From £100 fitted per 60x100cm area
5 Year vinyl, supplied cut and fitted
Window Frosting / Tint Small : £65 per window up to 60cmx100cm
Choice of finishes and life options, usually 5 years interior life.
Window Frosting / Tint Medium : £95 per window up to 1220cmx100cm
Choice of finishes and life options, usually 5 years interior life.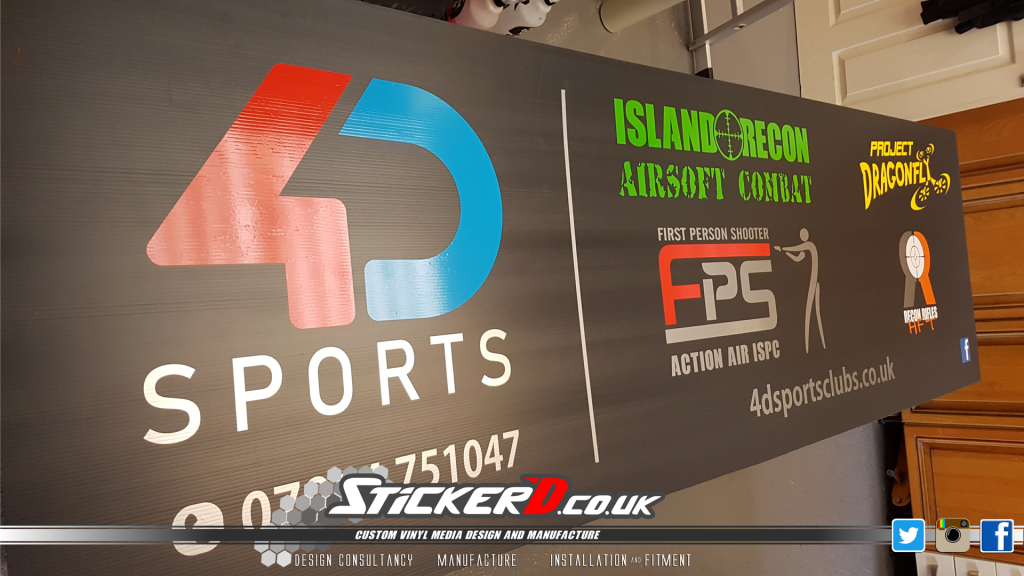 ---
Stickers
Single Colour Cut vinyl:
Stickers are most economical when bought in quantities, 1 off sticker cost £5.00 plus design fee but buying more in one go makes them cost effective:
below is based on a single colour , 10cm x 3cm and paper backed
Design Fee: £30.00 per hour
1-5 Stickers – £5.00 each
6-10 Stickers – £4.00 each
11-25 Stickers – £2.50 each
26-50 Stickers – £1.75 each
51-100 Stickers – £1.50 each
Print & Cut Stickers
Printed and cut on white vinyl, these offer good value and quantities depend on how may can be printed on a meter of vinyl so to keep it simple these are as follows
Design Fee £30.00 per hour
Cut & printed per meter £90
Cheaper alternative due to no lamination, ideal for temporary or event stickers
Printed, Cut & Laminated £125
Longer life laminated stickers are more resistant to physical damage and chemicals or cleaning products. choose these for advertising over long periods.
---
Non Commercial vehicles cars, Trucks and other Vehicles:
Usually people are looking for something different in this category, and we have done a few very complex and striking designs for cars and other vehicles, who are not necessarily a business. These jobs generally start at £500 for cars , but this again depends on what the design involves. We are quite happy to chat to anyone wishing to enquire about this type of custom graphics.

Custom Car Graphics:
Custom Pin Striping:
We offer a pin striping service with the added option have the pinstripe custom designed around your idea, although prices aren't fixed as the ideas can be radically different a two colour pinstripe with a car emblem starts at £180, which includes design, manufacture and fitment.
Custom Contour Striping:
Contour striping are thick or thin stripes that typically follow the lines of the body work to emphasise the cars lines and can make the vehicle look more aggressive, vehicle wrap is used for the technique and a special tape that cuts the vinyl, the whole design is done by hand and doesn't involve a cutter. the results can be amazing and very gratifying. Prices from £200 for one or more stripes on both sides.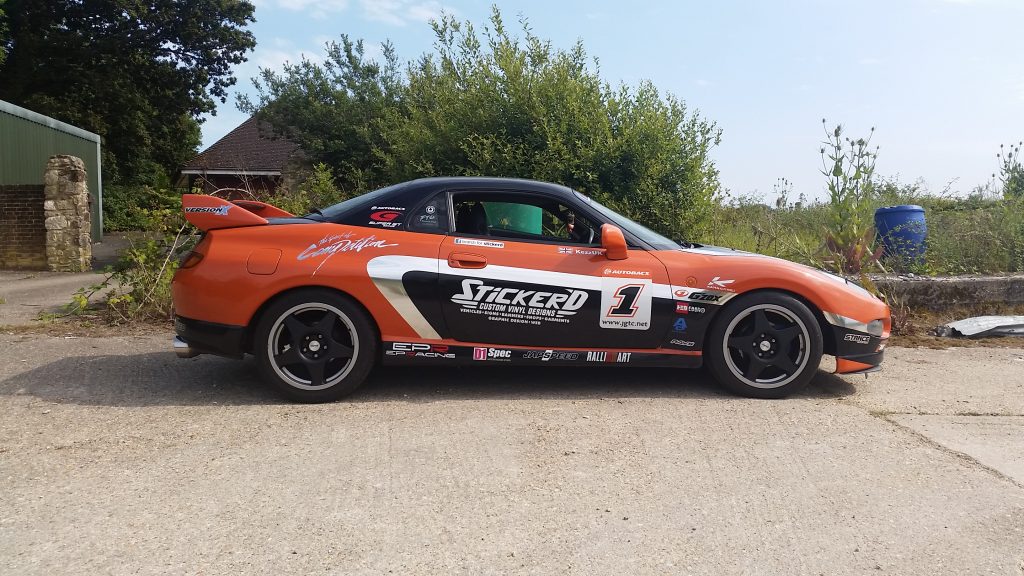 Vinyl Wrapping
Prices stated are based on white or black wrap (other colours at extra cost), condition of paintwork and size of the area to be wrapped
Car Bonnet: Prices from £165
supplied and fitted based on small car (fiesta size)
Car Roof: Prices from £200
supplied and fitted based on small car (fiesta size)
Wing Mirror Covers : from £90 for a pair,
based on the wing mirror being a cover.
Grilles : from £120
depending on the complexity and size of the grill
Cars : From £1,600
Depending on choice of wrap & car size
Motorbikes : £POA Bikes vary massively in their shape and complexity please see our posts, but full plastics wraps start at £60 per panel
Please note we do not wrap using customer supplied vinyl
All vehicles or panels will need to be apprised before booking in for any work.
Please use the contact form if you like a quote to wrap something other than above.